Shop-in-Shop Solutions
With our shop-in-shop solutions, create your own branded environment at any retail location. Let customers decide what they want to see. They can view, configure, and order products via touchscreen. Checkout? Do so via one of our payment solutions on the order kiosk. Turn those precious square meters into a real customer experience.
Webshop on the store floor
With Prestop order kiosks in the store, you create a digital point of sale. The touchscreen is a valuable source of information for every retailerThe line between online and offline shopping is blurring, thanks to the use of touchscreens. We also talk about "the endless aisle". Retailers do not have the entire stock in the store: consumers can easily order and checkout there and then via a touchscreen. In-store order kiosks can be used to create a digital point of sale. The touch screen is a valuable source of information for any retailer.
Help for staff and customers
With the order kiosk, customers visiting the ANWB store can search for all products in the ANWB webshop, order, pay directly and have the product delivered to their home for free.

If a product is not in stock in the store, it can still be ordered via the kiosk. This reinforces the omnichannel strategy of ANWB and employees do not have to sell "No".

Over the years, the shop-in-shop kiosk has also become an important source of information. Both customers and employees scan the barcodes of products in the store to find specific information.

ANWB partnered with Prestop in the development and implementation of the order kiosk. An important wish of ANWB was that everything was done by one party: hardware, linking ATM, setup and management.

Prestop developed, produced and installed these iconic order kiosks in the 85 ANWB stores.


Prenatal Retail Group implements Omnichannel.
Customers of Prénatal can not only make purchases, but also request the "happy box" and newsletter. This feature perfectly aligns with Prénatal's Omnichannel strategy, as it allows customers to stay connected and receive updates and promotions from the chain of baby and toddler products.
Prénatal's customers can easily explore the product range, place orders, and subscribe to relevant services, all in one central location. This Omnichannel approach provides a cohesive and convenient experience for Prénatal's customers, bridging the gap between physical stores and online shopping. This solution is available in the Netherlands, Italy, Portugal, and Spain thanks to Prestop.
Pick & Learn / Interactive Windows.
By combining various control techniques with touchscreens, it is possible to control curtains, beamers, light, sound, smell and even a robotic arm. In Prestop's Interactive Experience Centre you will find various live setups.
Pick & Learn in stores at Airports
What does this solution consist of?
This solution consists of a newly developed product shelf platform containing various sensors that detect which product the customer picks up. The technology used in this project include RFID tags that are recognized by special antennas, or a G-force sensor that recognizes the movement of the product, or a laser sensor that sees that a user moves his or her hand toward the product.

Once the customer picks up a product, a commercial is shown on the 55-inch display, and the customer can view more information via touchscreen controls.

All product information and visual media can be centrally managed and distributed through an online Signage platform.

Here, you can see some examples of what we created for CAPI. CAPI is one of the largest airport retailers, offering the best selection of consumer electronics. CAPI has a global presence with more than 30 stores at 12 airports. The assortment consists of premium and leading A-brands offering the most innovative products, such as: headphones, smartphones, travel accessories, personal care, and gadgets.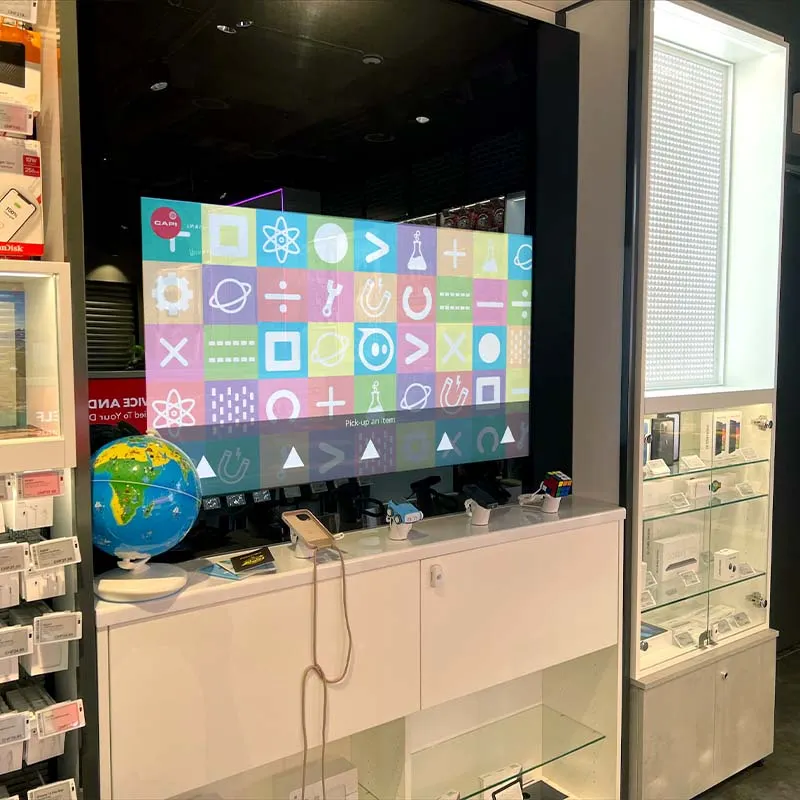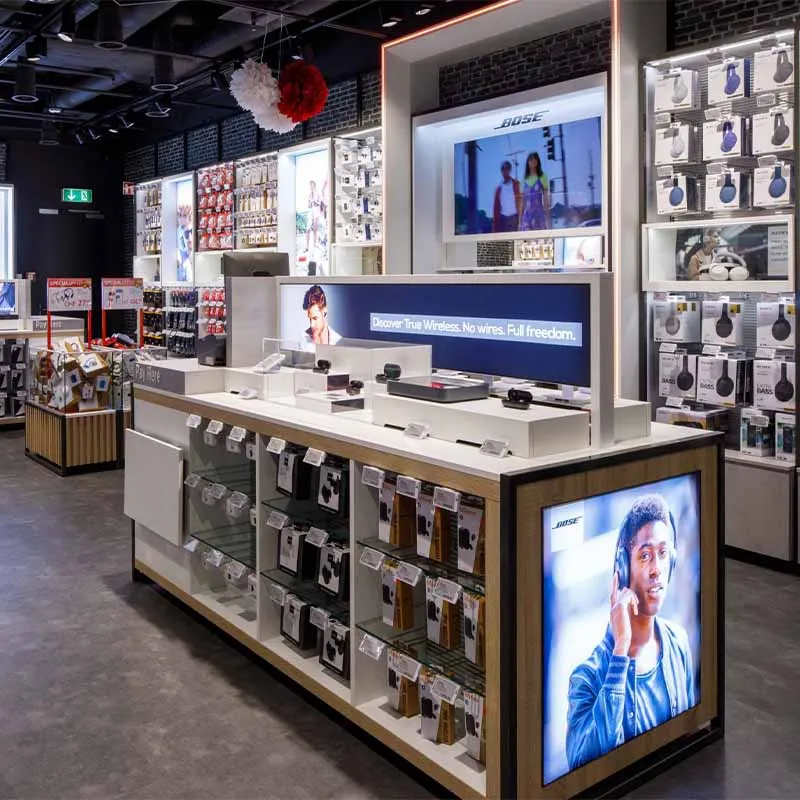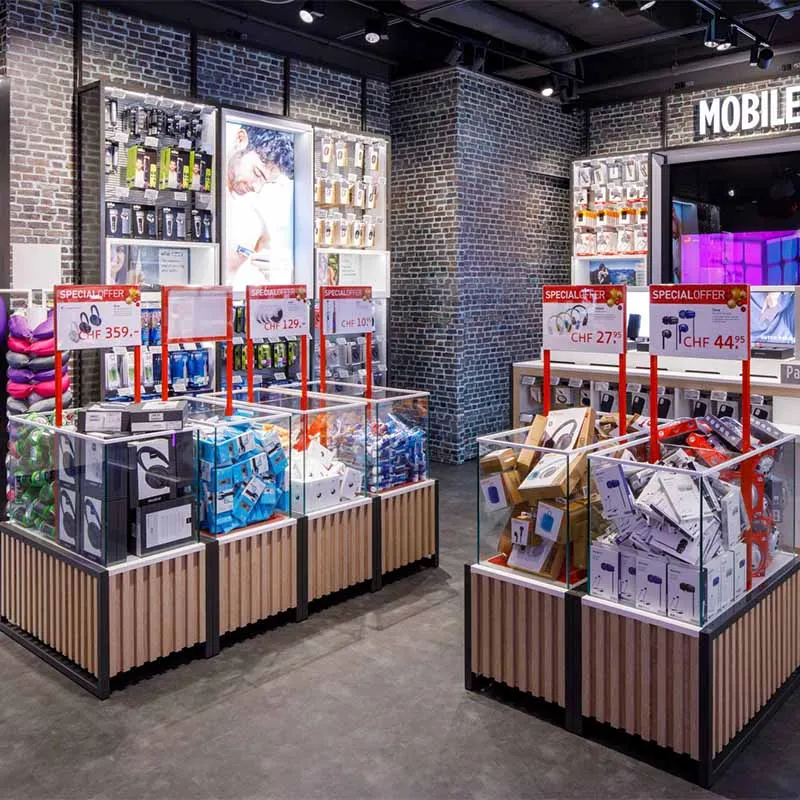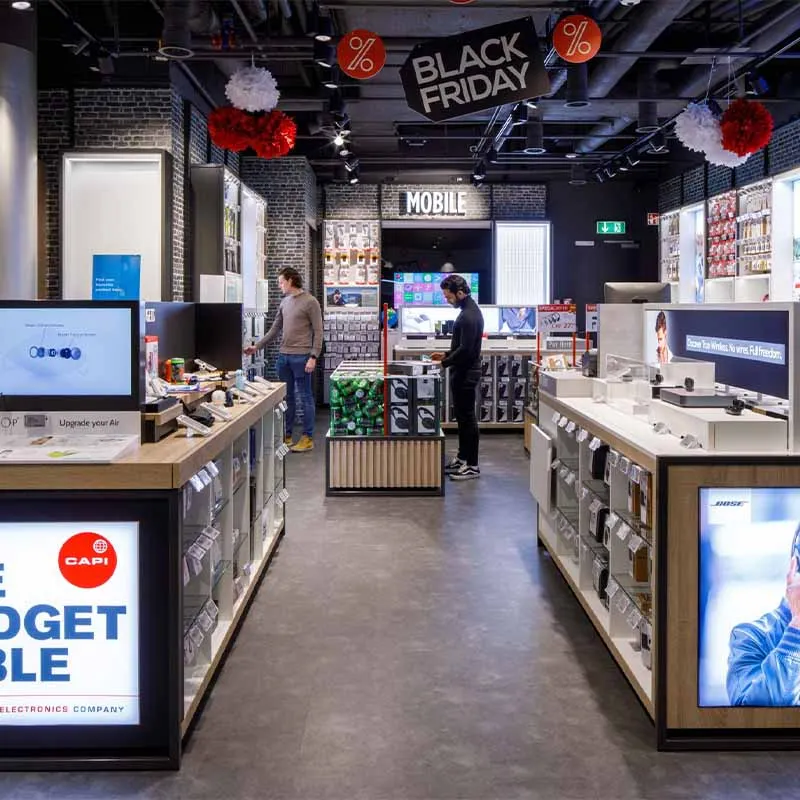 Digital showroom
Of course, it is also possible to show the entire collection digitally via an (interactive) video wall. Instead of traveling around with your collection, you show your offer interactively. Parties such as Tommy Hilfiger have been showing their latest collections in this way from their digital showrooms around the world for years.
QR payments/data entry
With this solution we developed, address data entry and payment is performed on a customer's Smartphone. More privacy and security for the customer who is sometimes in a busy public environment.

After the customer scans the QR code, a website is opened where the user can enter his/her data and payment details. We can provide this solution in several of our products. Prestop's showroom demonstrates a customized solution that combines a window/window touchscreen with an ordering application developed by Omnivision.
Video calls with product specialists
Due to the lack of knowledge and personnel on the store floor, we are convinced that video chat can also be successful on your store floor.

In recent years Prestop has gained a lot of experience with video calling solutions with the information kiosks delivered to Schiphol Airport where, since 2018, visitors can video call with employees of Schiphol Airport. Also, the local VVV Tourist Information Store is already deploying video call / video chat solution.
Visit our
Interactive Experience Center.
Prestop has the largest Interactive Experience Center in Europe. You are welcome in our showroom, at Ekkersrijt 4611 in Son en Breugel, where we can show you all our solutions.
Prefer online? Our specialists are happy to walk through our Interactive Experience Center with the iPhone with Zoom. Live images are shown and you can ask questions directly from home/work.