Update Heineken Experience with Prestop order kiosks
Wednesday 16 October 2019
The Heineken Experience in Amsterdam attracts more than 1.1 million visitors annually. At the Bottle Your Own attraction, one in five visitors buys a personalized beer bottle. To make it even easier for visitors to order a personalized beer bottle, the Bottle Your Own attraction has been expanded with 14 new order kiosks from Prestop with a 24" touchscreen and an updated version of the Bottle Your Own App.
Prestop designed new Heineken Kiosk
Prestop has designed a new order kiosk for the Bottle Your Own attraction. The Heineken kiosk has a 24" PCAP touchscreen, built-in receipt printer, QR code & barcode scanner and a payment terminal. The touchscreen is equipped with edge-to-edge glass, so the front of the screen is completely glass and therefore easy to clean.


Heineken is a loyal customer
For many years, Prestop has been a partner for interactive solutions for Heineken. For the entire project, from advice and design to the production and installation of order kiosks and touchscreens. And we also make the Bottle Your Own software.
The biggest challenge: expanding payment options
The biggest challenge of this project was to expand payment options. Visitors can place an order via the order kiosk and pay directly via the Adyen payment terminal with a bank or credit card. It is also possible to pay via a QR code (linking with Global Ticket API), this allows Heineken to sell combi and VIP tickets. The QR code scanner and Bottle Your Own App make other payment options (based on scanning) possible in the future. For example, paying with your smartphone. Of course, visitors can still pay in cash in the Heineken Experience shop.
Redesign Bottle Your Own App
The Bottle Your Own App - custom developed software from Prestop - has had a complete redesign. In addition to converting the interface from landscape to portrait, we looked with Heineken at other aspects of the app and updated it. Visitors can choose from two different Heineken labels, but we have also taken into account that other labels may be offered in the future, for example the Heineken 0.0 label.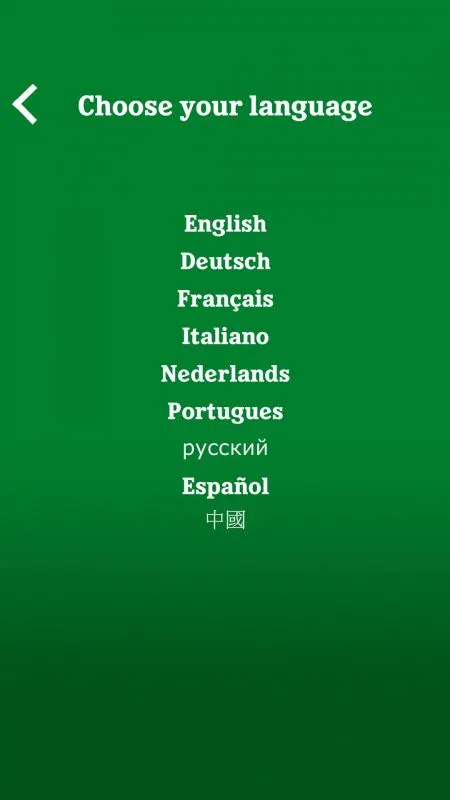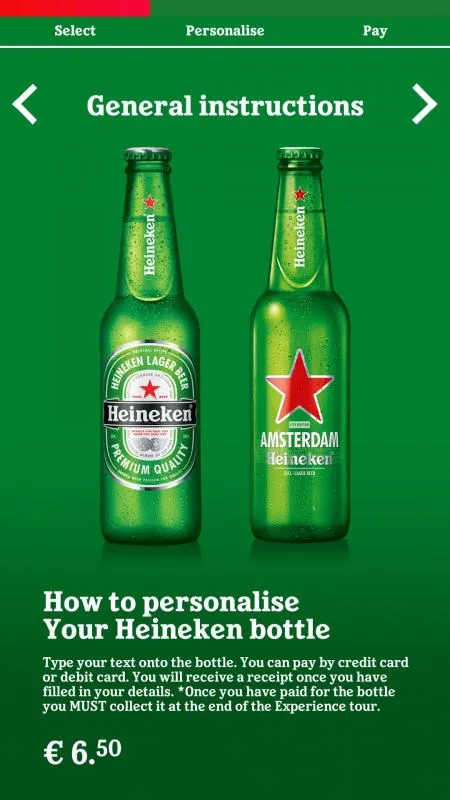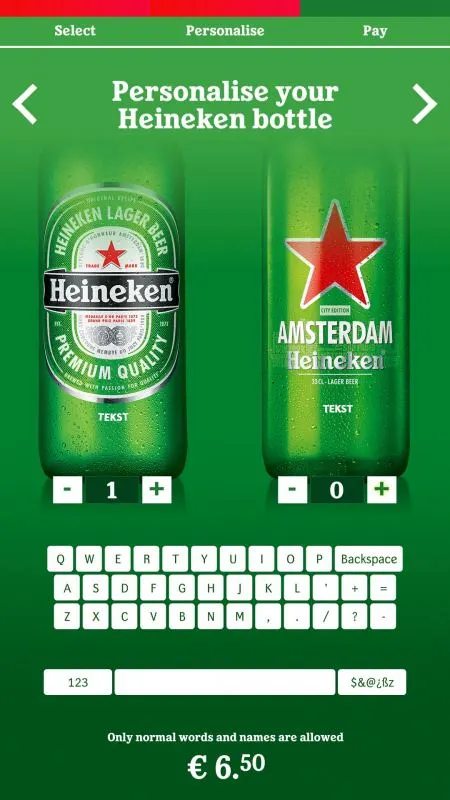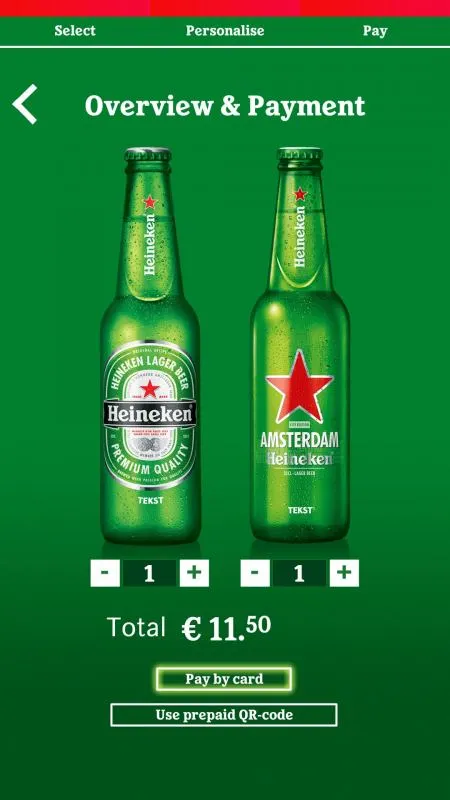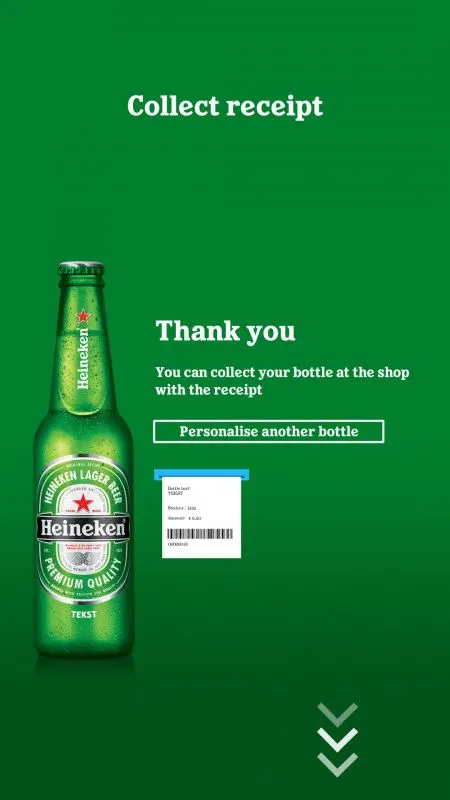 New animation
In collaboration with an animation studio, Prestop has provided a digital animation for the Bottle Your Own attraction of the Heineken Experience. Someone who orders a bottle sees an animation in the same room (on a 42" 4K display) and in the animation the bottle is (real-time) virtually labeled and given the given name. Unique in this animation is that the scale, lighting and color temperature are the same as the real bottles, which are also there in the filling machine. It is extremely important that the animation runs smoothly (with overhead), therefore we have supplied a PC with the latest Intel Core i7 and two Nvidia video cards.
Security and remote management
In a public space it is important that the software always runs safely. The computers run with Windows 10 LTSC (Windows Embedded) operating system with SiteKiosk, which further protects and monitors the OS. SiteKiosk reports to the SiteRemote Server, this is an online management system that proactively sends messages to responsible persons such as the status of the connection, printer and system. Via SiteRemote we can also provide/push new software to all order kiosks. With SiteRemote we can also see if a kiosk is offline. For example, if there is no connection with a payment provider, QR code API or printer. We can also provide remote support with our own remote desktop management via Log-Me-In, so we can troubleshoot remotely.
Visit our
Interactive Experience Center.
Prestop has the largest Interactive Experience Center in Europe. You are welcome in our showroom, at Ekkersrijt 4611 in Son en Breugel, where we can show you all our solutions.
Prefer online? Our specialists are happy to walk through our Interactive Experience Center with the iPhone with Zoom. Live images are shown and you can ask questions directly from home/work.