Expansion of Domino's order kiosks is gaining momentum
Wednesday 23 June 2021
Five extra self-order QSR kiosks for Domino's
This week, no fewer than five order kiosks will be installed across the Netherlands. These double-sided order kiosks are equipped with an Adyen payment terminal. The ordering application is automatically updated every evening and runs offline. Only the order and payment is done online. This set-up allows the user to order his favorite pizza or chicken piece very quickly.
Domino's can also confirm the following:
An order kiosk leads to an average of 25% more turnover

Significantly increase the average spending per guest

Ensures more efficient staffing

Reduces monthly costs

Prevents long cluttered crowds in front of the counter

Generates additional income through upsell and cross sell
You achieve these goals with the Prestop order kiosks
Prestop order kiosks are available with a 24" or 32" touchscreen, both in portrait and landscape orientation. The finish of our touchscreens is unique. By placing the monitor and possibly barcode scanner of the order kiosks completely behind glass, instead of building them in, you get a completely glass front. This makes the column very easy to clean/keep.
In addition to the hw, Prestop also supplies, in collaboration with application specialists, the ordering application and the cash register connections with, among others, BORK, Lightspeed L, Lightspeed K, Untill, Gasttrofix, MplusKassa, MrWinston, Trivec, Nuvopos, Twelve, Vectron, Cashdesk, NCR Aloha, GreePOS, Oracle, Micros and VJA Software.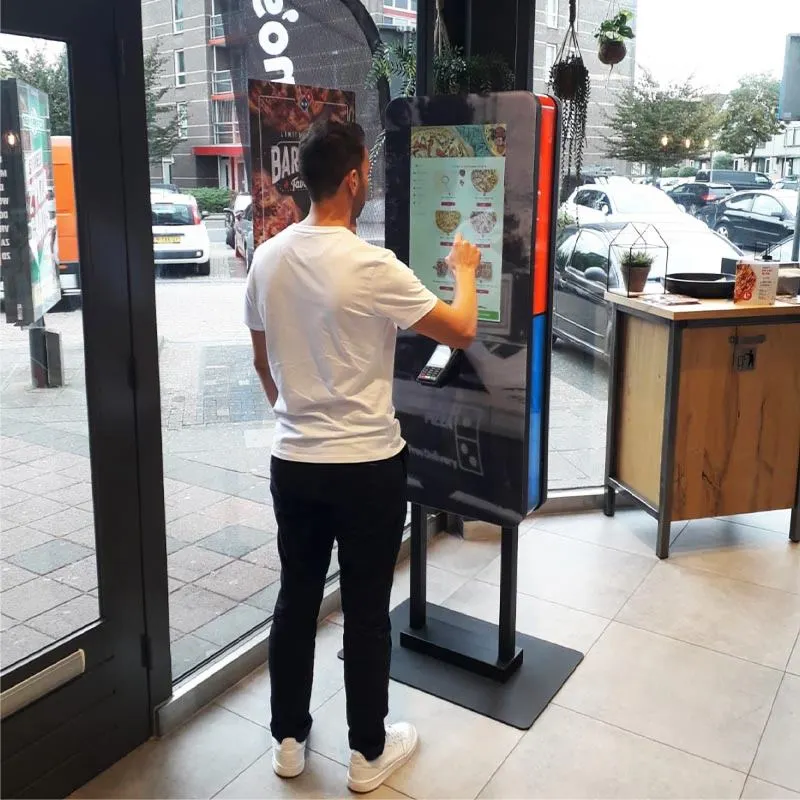 Visit our
Interactive Experience Center.
Prestop has the largest Interactive Experience Center in Europe. You are welcome in our showroom, at Ekkersrijt 4611 in Son en Breugel, where we can show you all our solutions.
Prefer online? Our specialists are happy to walk through our Interactive Experience Center with the iPhone with Zoom. Live images are shown and you can ask questions directly from home/work.