Enhancing Experiences: Nedap's Innovative Solutions for a Connected World
Nedap, a Dutch technology firm, specializes in developing innovative security, identification, mobility, and electronic protection solutions. Established in 1929, Nedap has established itself as a reputable and forward-thinking player in the industry. The company offers tailored solutions for a range of sectors, including retail, healthcare, transportation and logistics, and smart cities. Nedap's primary objective is to enhance people's lives and business efficiency through the utilization of technology. Emphasizing quality, sustainability, and usability, Nedap consistently strives to create novel and revolutionary solutions that cater to the diverse needs of its global clientele.
Immersive Videowall at Nedap's Experience Center
Within Nedap's Experience Center, Prestop has implemented a bespoke solution reminiscent of the interior of an ultra-luxurious Mercedes. This immersive video wall comprises an 85" screen and a 55" touchscreen. The 55" touchscreen, powered by Omnitapps, enables users to control the videos displayed on the 85" screen. Prestop has skillfully integrated speakers into the ceiling, resulting in an impressive setup that seamlessly combines visuals, audio, and touch functionality. Omnivision, following Nedap's specifications, developed the Omnitapps configuration, while Prestop's installation team expertly set up the screens, frames, and speakers. This comprehensive approach encompassed all aspects, including hardware, software, and seamless implementation.
Interactive Touchscreen with Soundbar
In another area of the Experience Center, Prestop has installed an additional 55" touchscreen on a wall bracket. Nedap supplied the accompanying PC for this setup. To enhance the audio experience, Prestop affixed a soundbar beneath the touchscreen, creating a harmonious fusion of visuals and sound.
Explore the captivating Omnitapps application
featuring engaging animated launch screens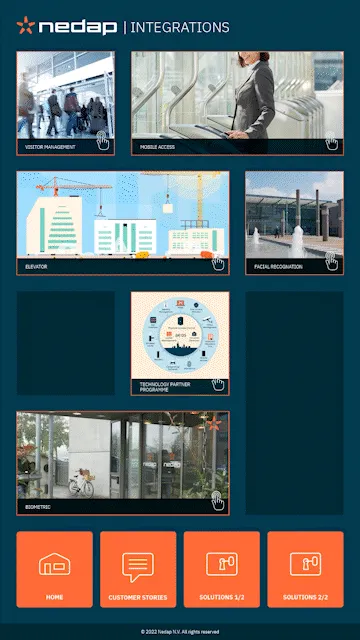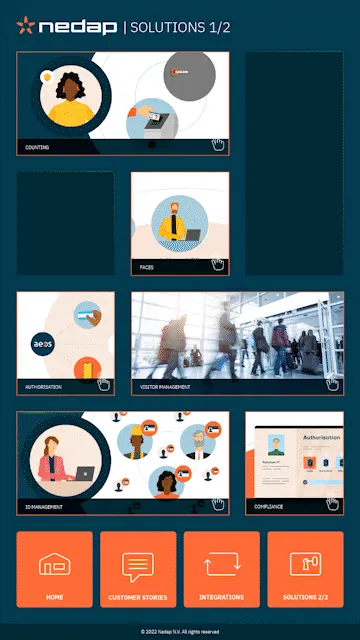 Visit our
Interactive Experience Center.
Prestop has the largest Interactive Experience Center in Europe. You are welcome in our showroom, at Ekkersrijt 4611 in Son en Breugel, where we can show you all our solutions.
Prefer online? Our specialists are happy to walk through our Interactive Experience Center with the iPhone with Zoom. Live images are shown and you can ask questions directly from home/work.