Access control system with scan kiosks
Let your visitors scan their invitation or entry ticket themselves, without an employee having physical contact with, e.g., a ticket, letter, or smartphone. With this system, the employee can see the status or information on their own monitor, while the visitor can see the necessary information on their own monitor. It is suitable as a check-in or access point at, e.g., clubs, museums, cinemas, concerts, theatres and attractions.
In addition, scan kiosks can be used to skip the line, as is done at Schiphol Airport.
Barcode and QR code scanning kiosk
Your staff do not need to use a Smartphone or tablet with a "clumsy" camera to check tickets. With this kiosk solution, the guest can perform a scan using a QR code reader. Your staff then only needs to check the ID or ask a control question.
The kiosk reads QR codes from paper or a smartphone. If you place several systems at your shops, chain or branches, you can view the system status of all kiosks online through a portal. The kiosk starts automatically in the scanner application.
Oftentimes, the kiosks can be equipped with a hand disinfection gel dispenser.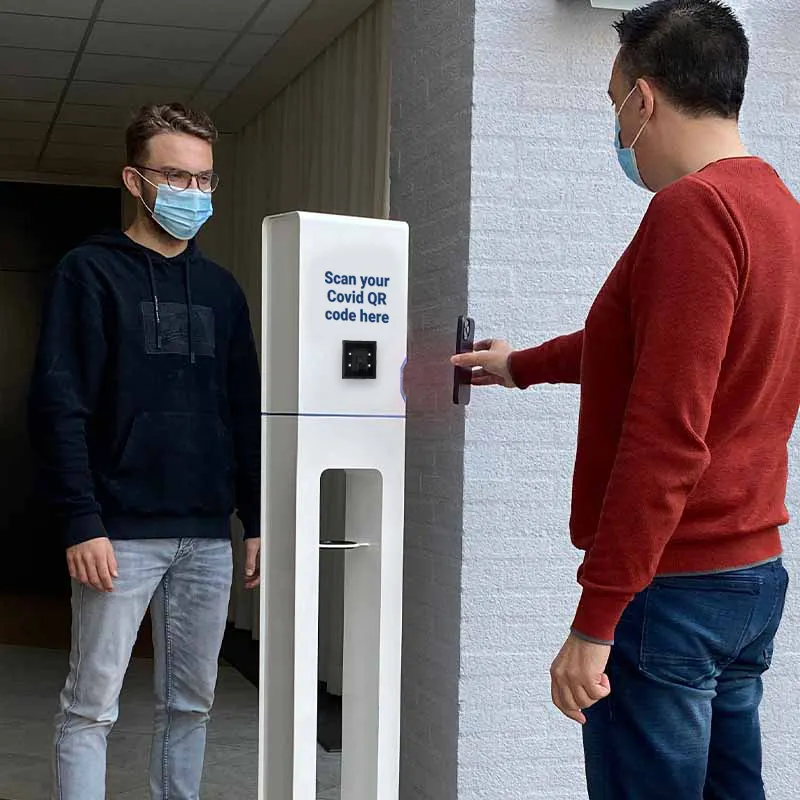 Visit our
Interactive Experience Center.
Prestop has the largest Interactive Experience Center in Europe. You are welcome in our showroom, at Ekkersrijt 4611 in Son en Breugel, where we can show you all our solutions.
Prefer online? Our specialists are happy to walk through our Interactive Experience Center with the iPhone with Zoom. Live images are shown and you can ask questions directly from home/work.