Prestop touchscreens part of phygital strategy Intergamma
Wednesday 04 March 2020
"Phygital is really something different from omnichannel," says Ingmar Hensbergen. "It is the blending of online and offline - of digital and physical - in one moment. Not that the customer visits your webshop online in the evening and your physical store the next day. That's omnichannel." Online chatting with employees from the shop, order kiosks, digital shelf labels and the Karwei workbench are nice examples of the connection between online and the shop floor.
Webshop in store, knowledge online
But back to the Phygital: in 2015 Gamma started with the in-store order kiosks. "After that, we actually brought the webshop into the shop. We started with one store, but soon rolled it out widely. In a military operation, we supplied all our stores with 1,300 kiosks in just a few months. That meant an expansion of the store assortment with a digital long tail, an extra ordering and payment function, product information on the floor, a stock check and also feedback on the functionality". Just as the chat brings the flesh-and-blood employee online, so do the kiosks bring the digital possibilities to the shop floor. Another example of digital possibilities on the shop floor is the digital price tag Gamma is experimenting with. "We started with two product groups in one DIY store but are now expanding into six stores and more ranges," says Hensbergen.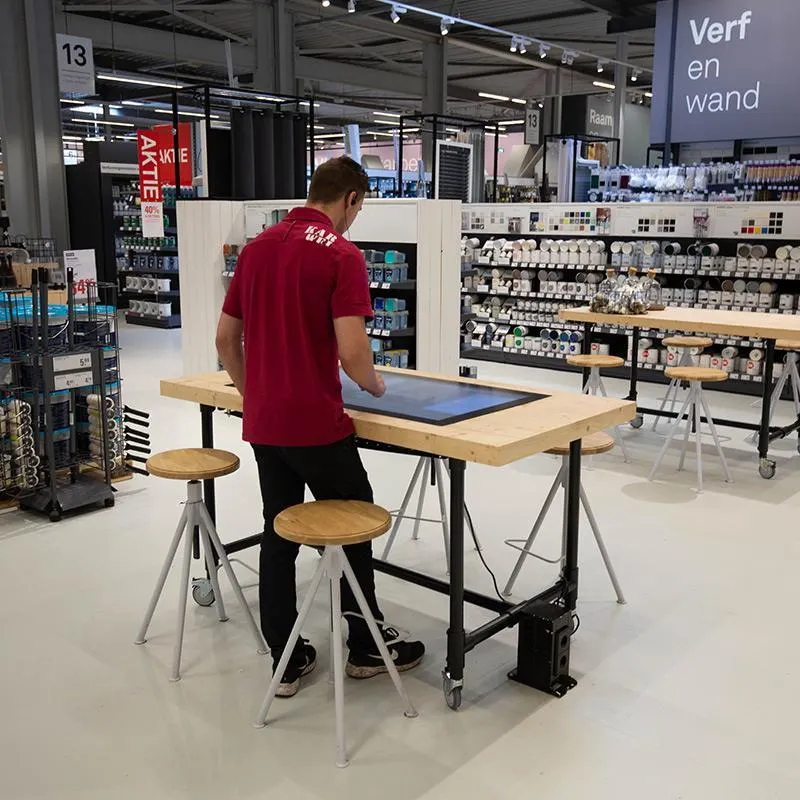 Online as first channel
The first Gamma store was copied from a concept from America and was mainly aimed at freelancers. But it soon became clear that the shop also attracted private individuals who needed more advice. For example, advice and help is a common thread in the timeline outlined by Hensbergen. On that timeline, Gamma goes online for the first time in 2011 with a catalogue of 100 products. "That was actually just an Excel," he says. In 2013 Gamma's first webshop went live, in 2014 the one for Karwei and Gamma in Belgium. "And now we have a real e-commerce environment with a turnover of more than €100 million. For Intergamma, online is not just a sales channel, Hensbergen emphasizes. "It is the most important channel through which customers approach us. More than 80% of our customers start their orientation online. That's why we have 3 million visitors a week on our websites". In an earlier interview, Hensbergen already indicated that something as simple as the stock check is a very common functionality. Consumers search for a product online, check whether it is in stock in the shop and only then get into the car. "If a product is not online, you don't have any sales. Not online, but also not in the shop."
Karwei's touchscreen table as a workbench
Another example of 'Phygital retail' is Karwei's workbench. The store in Uden was the first in Karwei's Q-format and had a touchscreen that can help you with the choice of your home furnishings. Meanwhile, the latest version in Amersfoort. It is fully integrated. You can draw your room and scan samples of wallpaper, paint, and carpeting and load it into the drawing to see how it fits together. You can even choose certain items from the webshop and place them in your virtual room. Think about tables, cupboards and doors later on. Hensbergen: "Customers can find their own way, but our employees can also help. Sometimes we even have stylists on the floor who can help. When the customer is ready, he can print a mood board of the combination he has put together. He can look at it at home again at his leisure. There he can also scan it with his mobile phone and get back into the online environment to continue puzzling or order articles directly".
Digital price tags
The digital price tags have many advantages. They enable a flexible pricing policy, reduce the cost and handling of the paper price tags, reduce 'hassle' at the checkout and make the connection between online and the physical shelf. "On the digital price tags we can, for example, also show similar products from our stock or reviews from the webshop". With a new generation of digital shelf cards (flash) Intergamma will soon be able to direct employees and/or customers with a light signal to a shelf for a stock check. It will also be possible to pay at the shelf - instead of at the cash register - in the future.
More than a toy
"We are noticing that customers are using these tools more and more. It's really more than a toy, especially for the younger generation. The younger they are, the easier it is for them to use it themselves." Beautiful systems that offer opportunities to the modern consumer. Yet there are the necessary challenges for a company like Intergamma to implement this on a large scale. Hensbergen: "The investments are high and the systems and processes must be linked. We call that 'Close the loop' internally. Good data is a prerequisite for this type of technology, as is adoption by our customers and our employees. And the technology goes very fast. As a result, we expect costs to drop, but you also have to keep innovating in order to keep up. But we think this is the way to the future. By blending online and offline we can compete with parties like bol.com. Because consumers are insecure, and we have the knowledge and experience to help them get the job done".
Visit our
Interactive Experience Center.
Prestop has the largest Interactive Experience Center in Europe. You are welcome in our showroom, at Ekkersrijt 4611 in Son en Breugel, where we can show you all our solutions.
Prefer online? Our specialists are happy to walk through our Interactive Experience Center with the iPhone with Zoom. Live images are shown and you can ask questions directly from home/work.