New special offer: the Evolution Kiosk for sale and rent at a spectacular price
Monday 10 April 2023
The Evolution Kiosk is the latest addition from Prestop, a Dutch company known for its high quality and reliability in the field of interactive kiosks. This kiosk is available in two sizes: 24" and 32", and offers different application possibilities, such as information kiosk, digital reception, check-in kiosk and order kiosk. Learn more about the Evolution Kiosk and the special offer Prestop currently has.
Meet the Evolution Kiosk
The Evolution Kiosk is a modern, stylish kiosk that fits perfectly into any environment. With its sleek design and high-quality materials, this kiosk is not only functional, but also an eye-catcher in any space. Whether you are looking for a way to share information, welcome visitors or sell products, the Evolution Kiosk provides the solution.
Black and white, plus decals
Because we make our kiosks out of steel, we can coat them in white and black according to your preference. You will not see this on other people's plastic models! We can also sticker our kiosks to match your branding!
The Evolution as information kiosk, digital reception, check-in kiosk and order kiosk!
Information kiosk
The Evolution Kiosk can be used as an information kiosk, where visitors can easily request information on a particular topic via a web page. This is useful, for example, in museums, libraries or at trade fairs.
Digital reception
With the Evolution Kiosk you can also create a digital reception. Here visitors can check themselves in and receive information about the location or event. We do not offer software as standard, but we can optionally install and set this up.
Check-in kiosk
A check-in kiosk is helpful for hotels or conference centers, for example. Visitors can check in here themselves and access information about their stay.
Order kiosk
The Evolution Kiosk can also be used as an order kiosk. Here, customers can order products themselves, as for example in a restaurant or store.
Warranty and support
At Prestop, we guarantee our products. That is why we offer a two-year warranty on the Evolution Kiosk. In the unlikely event that something goes wrong, we offer remote support during office hours. This way, we ensure that any problems are solved quickly and efficiently.
Attractive price: purchase and renting available
The Evolution Kiosk is available from € 1,735 excluding VAT. In addition, we also offer the kiosk as a rental option for € 1.85 per day excl. VAT. So you can decide which option suits you best.
Check out the brochure, options and request a quote or information in the form below the brochure!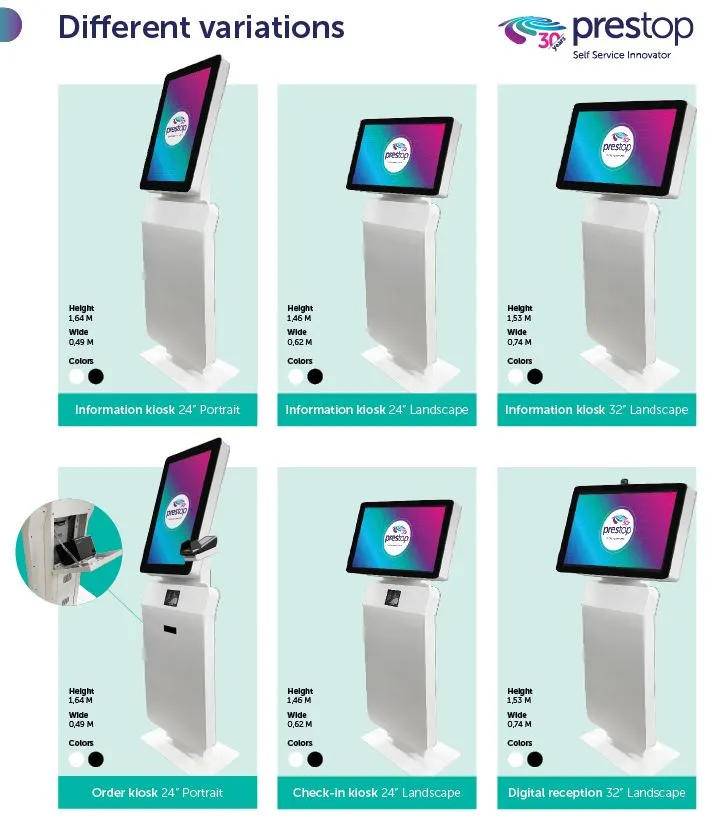 Request info / quotation Evolution kiosk
Visit our
Interactive Experience Center.
Prestop has the largest Interactive Experience Center in Europe. You are welcome in our showroom, at Ekkersrijt 4611 in Son en Breugel, where we can show you all our solutions.
Prefer online? Our specialists are happy to walk through our Interactive Experience Center with the iPhone with Zoom. Live images are shown and you can ask questions directly from home/work.