Hyperscreen video wall installed in Experience Center of Nedap
Monday 08 May 2023
Nedap is a Dutch technology company focused on developing innovative security, identification, mobility, and electronic protection solutions. The company was founded in 1929 and has since built a reputation as a reliable and progressive player in the industry. Nedap provides customized solutions for various sectors, including retail, healthcare, transportation and logistics, and smart cities. Nedap aims to use technology to improve people's lives and business efficiency. With a focus on quality, sustainability, and usability, Nedap continues to constantly strive for new and groundbreaking solutions that meet the needs of customers around the world.
Hyperscreen videowall in Experience Center Nedap
In Nedap's Experience Center, Prestop installed a custom solution. A hyperscreen, just like in the interior of an ultra-luxury Mercedes. This hyperscreen video wall consists of two screens. An 85" screen and a 55" touchscreen. The 55" touchscreen, which runs Omnitapps, allows users to control videos on the 85" screen. Prestop built speakers into the ceiling. Together with the large screen, this makes for an impressive setup. In which image, sound, and touch are brought into one. Omnivision made the Omnitapps configuration to Nedap's wishes, and Prestop's installation team installed the screens, frames, and speakers. Thus, all aspects, hardware, software, and unburdening, were brought together.
Touchscreen with soundbar
In addition to the video wall, Prestop has another 55" touchscreen on a wall bracket in another part of the Experience Center. Nedap itself provided the PC for this. Prestop placed a soundbar underneath.
Check out the Omnitapps application
with animated starting screens!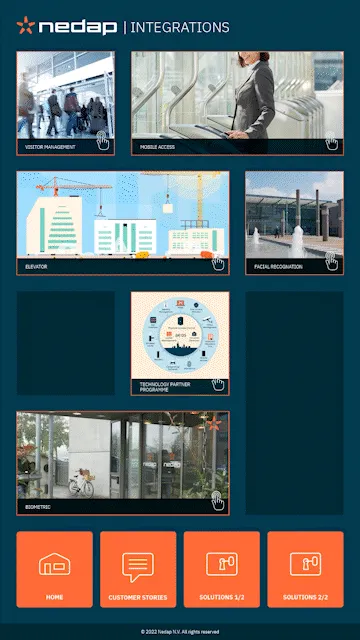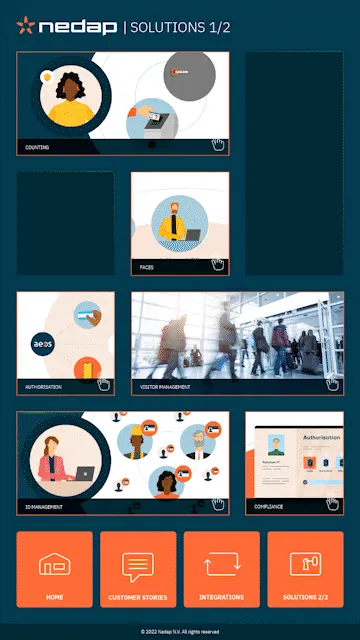 Visit our
Interactive Experience Center.
Prestop has the largest Interactive Experience Center in Europe. You are welcome in our showroom, at Ekkersrijt 4611 in Son en Breugel, where we can show you all our solutions.
Prefer online? Our specialists are happy to walk through our Interactive Experience Center with the iPhone with Zoom. Live images are shown and you can ask questions directly from home/work.