Designing a unique interactive Kiosk/Table for State of Art using Omnitapps software
State of Art, a prominent fashion brand, approached Prestop while visiting their experience center. After witnessing the demonstration of the Triumph motorcycle setup, Martijn Mateman from State of Art commissioned Prestop to design a similar setup for their stores.
The Challenge: Creating an Interactive Kiosk/Table with Omnitapps Software
Prestop was tasked with creating a unique kiosk/table that would house two 24 inch screens behind glass, a video wall from Philips, and two configurations made in Omnitapps. Omnitapps is a software platform that allows for creating interactive applications such as games, quizzes, and product presentations.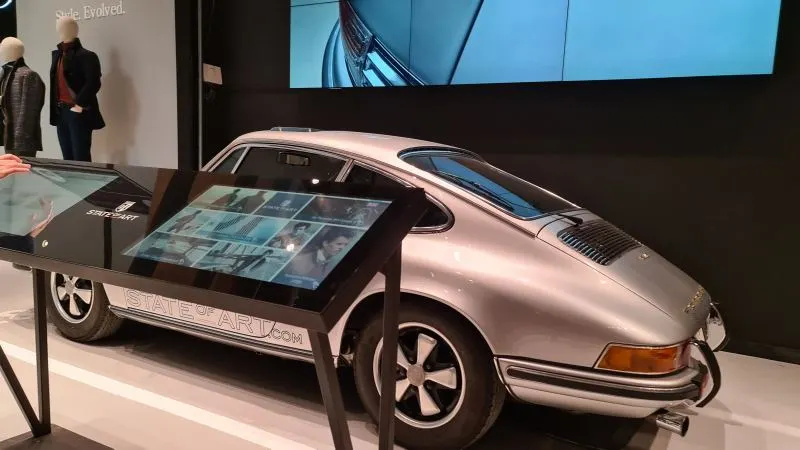 To make the setup interactive, touch foil was applied to the almost 1.7-meter wide glass plate in Prestop's own cleanroom. Additionally, the logo was incorporated into the screen print in color between the two screens. The housing, which contained a compact PC and an extender, was also fully custom-made and powder coated in precisely the same color as the store set-ups.
The Solution: Omnitapps Software Customization
Prestop's team of experts customized the Omnitapps software to include State of Art's branding, product information, and interactive elements such as quizzes and games. The software was designed to be user-friendly and easy to navigate, providing a seamless experience for customers.
The interactive kiosk/table was a hit with customers and provided shoppers a unique and engaging experience. The use of Omnitapps software allowed for customization and flexibility, ensuring that State of Art's branding and products were prominently displayed and easily accessible.
Need more information, demo or price quote about retail experiences?
Want more information about Omnitapps solutions for retail experiences or other interactive solutions?
Then get in touch with Prestop! +31(0)499-367 606 | sales@prestop.nl | fill in the form below.
Application Request Form
Fill out the form below to request info on our applications.
Visit our
Interactive Experience Center.
Prestop has the largest Interactive Experience Center in Europe. You are welcome in our showroom, at Ekkersrijt 4611 in Son en Breugel, where we can show you all our solutions.
Prefer online? Our specialists are happy to walk through our Interactive Experience Center with the iPhone with Zoom. Live images are shown and you can ask questions directly from home/work.