Height adjustable and tiltable touch tables
Prestop delivers its touch tables worldwide. To ensure that the height of the "top" can be adjusted to the users and that a touch table can pass through a doorway or be placed in an elevator, the first height-adjustable and tiltable touch table was developed in 2014. The goal was and still is to create a safe table and ensure that the "top" is stable when users lean on it. This development has resulted in a standard product that you will find under products.
Flight case touch tables
For the American market, Prestop supplies customized touch tables processed in a flight case. Unique is that the flight case lid can be converted into a desk that the customer can place on her stand. Because of this setup, the customer can roll the entire touch table off the stand immediately after the fair! More information about the standard product can be found at this link.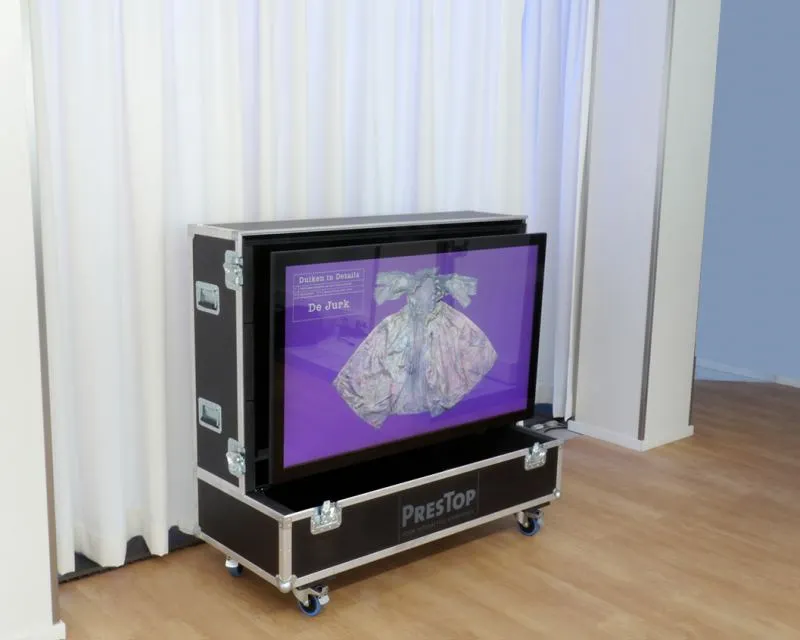 Video call TV
Bring people in contact with Saam video call TVs. This was the goal at the time of the lockdown for the residents of care centers who were not allowed to receive visitors. This solution is easy to move and can be placed on a wheelchair elevator. Because the height of the screen is adjustable and the angle of the screen can be changed, the camera is always focused on the person. Prestop will of course continue to make this product but will adapt it to any specific wishes.
Are you interested in custom adjustable and flight case touch tables and video call TV?
Then request a consultation and demonstration here.
Visit our
Interactive Experience Center.
Prestop has the largest Interactive Experience Center in Europe. You are welcome in our showroom, at Ekkersrijt 4611 in Son en Breugel, where we can show you all our solutions.
Prefer online? Our specialists are happy to walk through our Interactive Experience Center with the iPhone with Zoom. Live images are shown and you can ask questions directly from home/work.